And so it's over, after a long week of hard work to try to achieve some playable and fun game, we finally finished our entry for the 7DRL challenge of 2015:
Stygian Abyss is a procedurally generated first person action dungeon crawler; survive the legendary Stygian Abyss to find the Codex of Ultimate wisdom, a new adventure awaits you every time!
Features
A level generator inspired in Ultima Underworld
Explore the environment in a first person view.
8 classes with different starting equipment and skills
11 spells
28 different monsters
Melee and ranged weapons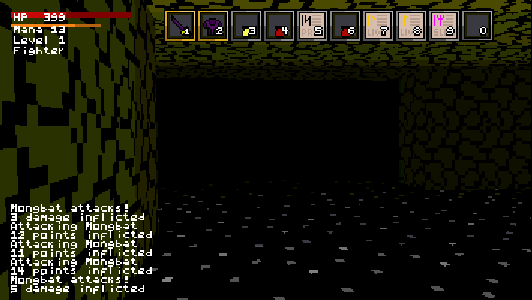 I worked with Slash for this challenge, he did an awesome work in the levels generator (Stygian Generator) as well as assembling all the pieces together and finishing the last touches for the game.
I was in charge in the development of the engine (we decided to reuse the engine for Britannian Underworld that I was programming) as well as the main gameplay like the combat, items and magic system.
The cover art was created by Talzhemir "Manda" Penumbra; drawn and painted specially for this game. She was part of the Ultima VI dev team. Thank you!
The music is Ultima IV "Dungeon", from Ken Arnold. C64 version from the Videogame Music Preservation Foundation
The sound effects were made by Bart, from OpenGameArt.
Graphics come directly from the Ultima IV and Ultima V tilesets, with some tweaks and original tiles being made.
This project is non-commercial, made just for fun from fans to fans.
So what's next
While the challenge is over and we delivered the game, there is a lot of things that we originally intended to add but in order to meet the deadline of the 7 days we had to cut them out, I'm planning on adding those features (and some more) in the next weeks.
I'm also planning on redesign most of the sprites in the game: add more colour, increase the resolution of the creatures, redesign some enemies to make them look bigger, etc.
I'll post soon on the development of this.
Greetings.